Hollie Smith is one of Aotearoa's most recognizable artists of the 21st century. For over 20 years, Hollie has cemented herself as an acclaimed solo artist and an accomplished collaborator, becoming an integral voice in the local music scene. Alongside three #1 debuting solo albums, Hollie has scooped numerous awards, accolades, and acclaim, and seen her voice become part of many iconic moments in New Zealand music history.
Hollie's first experiences with music was through her involvement in the Auckland Blues and Jazz scene as a teenager, which was the beginning of her live performance career. Smith got early recognition when she won Best Vocalist & Best Arrangement at the Tauranga National Jazz Festival at the age of 15.
Around this time she began recording with her father Steve McDonald, who generated an international following in the 90s for his work in celtic music. These recordings would lead to a tour of the USA and Hollie's first original music recordings, where she recorded with Tre from legendary hip hop group The Pharcyde and iconic American session drummer Larry Thompson. One of these early songs with Steve, featuring Hollie, would eventually be sampled for a track by US rap giant DMX.
Hollie then emerged in the early 2000s as a solo artist, becoming one of the most prodigious talents of a blossoming music scene in Wellington. Hollie would collaborate and tour with Trinity Roots, appearing on their iconic album Home, Land & Sea. She featured on Fat Freddy's Drop classic ballad 'Hope' and performed on Concord Dawn and Recloose' albums amongst several others before releasing her self-titled debut EP to much acclaim. Then in 2005, the Don McGlashan-penned single 'Bathe in the River', for the film No. 2, would generate even further hype for Hollie, as it spent 37 weeks in the Top 40, peaking at #2, and went on to win the APRA Silver Scroll.
On hearing recordings for her debut album Long Player, Hollie was offered a record deal out of the US from legendary jazz label, Blue Note. Hollie would then record in New York City with producer and keyboard legend James Poyser (The Roots), Adam Blackstone (Kanye West, Justin Timberlake) & Jeff Lee Johnson (Erykah Badu, Aretha Franklin).
Unfortunately shortly before releasing Long Player with Blue Note, its parent label EMI Music would then be sold and Smith would find herself in a long and difficult process of legal negotiations settling an already executed contract. This wouldn't hinder the album's local success though, as upon release in 2007 'Long Player' would debut at #1, sell double-platinum, and go on to win multiple gongs at the New Zealand Music Awards, along with critical acclaim. During this time she opened for such music royalty as Bob Dylan and Coldplay.
Hollie returned in 2010 with her fearless sophomore album Humour and the Misfortune of Others, which would debut at #1 and become certified gold. The album was followed soon after by an ambitious collaboration album with Mara TK, titled Band of Brothers Vol. 1 as well as another collaboration album, Peace of Mind, with Anika Moa and Boh Runga.
Over the years Hollie's potent vocal powers have made her highly sought-after, with appearances on works from Fly My Pretties, Home Brew, Sol3 Mio and Flight of the Conchord's Brett McKenzie albums.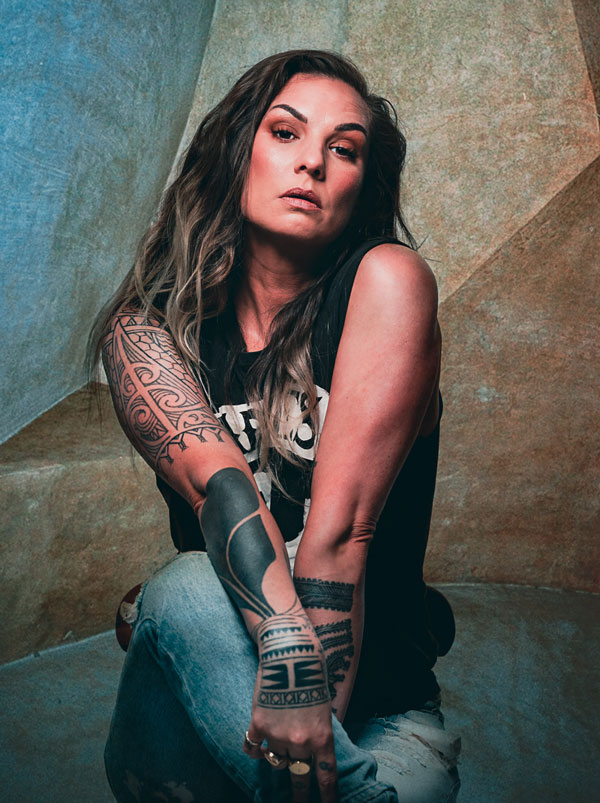 With guest appearances on official cover albums for Crowded House, Bob Marley and Herbs, as well as contributions to multiple charity releases for organisations such as Women's Refuge, the New Zealand Breast Cancer Foundation, Starship hospital and Cure Kids.
In 2016 Smith's third solo album Water or Gold, saw her notch yet another #1 album as well as New Zealand Music Award nominations for Album of the Year and Best Female Solo Artist. Following the release of 'Water Or Gold', Smith has continued to grow and contribute as an artist. Her bilingual collaboration with TEEKS, 'Whakaaria Mai/How Great Thou Art' received widespread acclaim and would see her perform it at a concert in remembrance of the Christchurch terrorist attack victims. More recently Hollie guested on the 2020 COVID-19 lockdown hit 'Stay' with an all-star line up that featured Stan Walker, Ria Hall, Kings, Troy Kingi and many more. In 2021 Hollie worked alongside Don McGlashan again for the TVNZ series Waiata Anthems, on an episode that documented the making of a bilingual te reo Māori version of 'Bathe In the River', titled 'Korukutia'.
After a five year break, Hollie now returns with her fourth solo album, Coming In From The Dark. An album which further showcases her powerful voice and emotive songwriting and sees her collaborating with some of New Zealand's top musicians, including the New Zealand Symphony Orchestra, TEEKS, Sole Mio and Raiza Biza.
With three #1 studio albums, much acclaim, award nominations and numerous iconic collaborations, Hollie has well and truly confirmed her status as one of Aotearoa's most beloved, esteemed and prolific artists as she enters her third decade as an artist and musician.
ALBUMS:
Hollie Smith - Light From A Distant Shore (Etherean - 1999)
Trinity Roots - Home Land And Sea (Rhythmethod - 2004)
Illphonics EP (Capital Recordings - 2005)
Recloose - Hiatus On The Horizon (Peacefrog - 2005)
Hollie Smith EP (Rhythmethod - 2006)
Concord Dawn - Chaos By Design (Uprising - 2006)
Solaa - Steps In Time (Sugarlicks - 2006)
Hollie Smith - Long Player (Soundsmith Records / EMI - 2007)
Fat Freddy's Drop - Based On A True Story (The Drop / Rhythmethod - 2007)
Hollie Smith - Humour And The Misfortune Of Others (Soundsmith Records / EMI - 2010)
Band Of Brothers Volume 1 (Soundsmith Records / EMI - 2011)
AnikaBoh&Hollie - Peace Of Mind (Civic Productions / Sony - 2013)

Homebrew - Young Gifted & Broke 2012

Hollie Smith - Water Or Gold (Soundsmith Records / Warner Music - 2016)
Raiza Biza - Summer In Retrograde 2021
COMPILATION ALBUMS:
Conscious Roots 2 (Capitol Recordings - 2005)
Return Of Fly My Pretties (Loop - 2005)
Conscious Roots 3 (Capitol Recordings - 2006)
Rippon 2006 album (Loop - 2006)
Brazil O.E (Loop - 2006)
Naming Number 2 (Hacktone Records - 2007)
Great NZ Songbook (Sony Music - 2009)
Merry Xmas Baby (Rythmethod - 2009)
They Will Have Their Way - EMI Music 2011

Stir It Up - UNI 2016

Sol3Mio - A Very Merry Xmas - 2017

Fly My Pretties, The Studio Recordings 2 Loop 2020
The Offering  - Thom Music 2019
AWARDS:
Best Vocalist Tauranga Jazz Festival - 1996
Best Female Artist NZ Music Awards - 2007
Breakthrough Of The Year NZ Music Awards - 2007
Best Aotearoa Roots Album NZ Music Awards - 2007
Best Producer - NZ Music Awards - 2007
NOMINATIONS:
Best Album - NZ Music Awards - 2007
Best Female Artist - NZ Music Awards - 2010/ 2011
Best Roots Album - NZ Music Awards - 2011/2012
Best Album - NZ Music Awards - 2016
Best Female Artist - NZ Music Awards - 2016